Special report
Indigenous groups in Guyana raise alarm over historic issuance of carbon credits by Norwegian-funded certifier
The government of Guyana is the first tropical forest jurisdiction to achieve approval of carbon credits for emission reductions from the country's forests by ART, a Norwegian-financed certifier housed at the American non-governmental organisation, Winrock International. ART has issued credits to Guyana for 33.47 million tonnes worth of carbon over the five-year period from 2016 to 2020.
The news of the credit issuance on December 1, 2022, was accompanied by an announcement that the credits have been sold to the New York-based oil company Hess for a minimum of USD 750 million. Hess has oil operations off the coast of Guyana in partnership with ExxonMobil and CNOOC.
Norway's cooperation with Guyana dates back to 2009 with a NOK 1.5 billion climate forest programme that aimed to incentivise the South American country to take care of its part of the Amazon rainforest through result-based payments. Though controversial, due to years of delays in the disbursement of funds, the cooperation supported the establishment of a national system to monitor the level of carbon stored in Guyana's forests.
Norway was quick to congratulate the government of Guyana on being the first country to be issued forest carbon credits by ART. But Joshua Lichtenstein at Rainforest Foundation US says the Norwegian statement was "premature." While ART says indigenous peoples have endorsed the credit issuance, indigenous groups say they were not properly consulted. Questions are also being raised about the quality of ART's issuance process and, by extension, the legal basis for the sale to Hess.
"No one consulted [indigenous people] on whether the communities were in favour of their lands and forests being included in carbon trading," the Amerindian People's Association, a Guyanese indigenous NGO, writes in a press release. "This carbon crediting process violates Indigenous Peoples' rights to their free, prior, and informed consent."
The issuance of credits by ART
ART, which stands for Architecture for REDD+ Transactions (ART), was created in 2018 with a NOK 43 million grant from the Norwegian Climate Ministry. The grant is part of Norway's climate forest initiative (NICFI), which has since 2008 invested over NOK 34 billion in establishing an international system for reducing emissions from deforestation and land degradation (REDD)+. ART anticipates continued Norwegian funding for 2023-2025, but expects eventually to be financially self-sustaining through fees for credit issuance.
A growing body of scientific evidence indicates that indigenous peoples are the most effective defenders of tropical forests. ART has developed a methodology for measuring and verifying forest emission reductions, so-called "TREES," and it claims to have the industry's strictest requirements on safeguards related to indigenous peoples' rights. A government must show that it has complied with all requirements, including consultation with affected indigenous communities, and this must then be independently verified by a third party, according to ART.
In Guyana, indigenous peoples make up just 10 per cent of the population in Guyana, but they claim about half the country's 18-million-hectare forest area as their ancestral lands. They hold legal title to 2.5 million hectares of forest lands.
Demonstrating that consent has been obtained from indigenous peoples to the issuance of credits from their lands has therefore been central in the process. At the heart of the conflict are the questions of who can make decisions on behalf of indigenous communities and whether they have been properly consulted.
ART's press release about the issuance states that consent has been obtained. "Endorsement for the government to sell credits from Guyana's Indigenous lands - both titled and untitled – including the terms of benefit sharing, was given by the National Toshaos' Council, which includes leaders elected by each community and is the legal representative of Indigenous peoples in Guyana," it states.
Pradeepa Bholanath at the Guyanese Ministry of Natural Resources writes in an email to Development Today that "the National Toshaos Council is the national body that represents all Indigenous Villages in Guyana … [the Amerindian Act] legislatively enshrines the powers of the [council], to lead on, guide and endorse the Low Carbon Development Strategy and approach to carbon financing in Guyana."
In September, the government of Guyana submitted its final report to ART. In it, the government acknowledges indigenous peoples' "key role as forest stewards" over thousands of years, and it commits to allocating 15 per cent of credit sales to them. The submission contains a document that summarises the process of consultation with indigenous peoples and other stakeholders. The US-based consulting firm Aster audited the submission and last month gave its green light. Soon after, ART approved the credits. All documents can be found on the ART Registry.
Legal representation
The notion that the National Toshaos Council is the "legal representative" of indigenous peoples in Guyana is rejected by the council's former Chair, Nicholas Fredericks.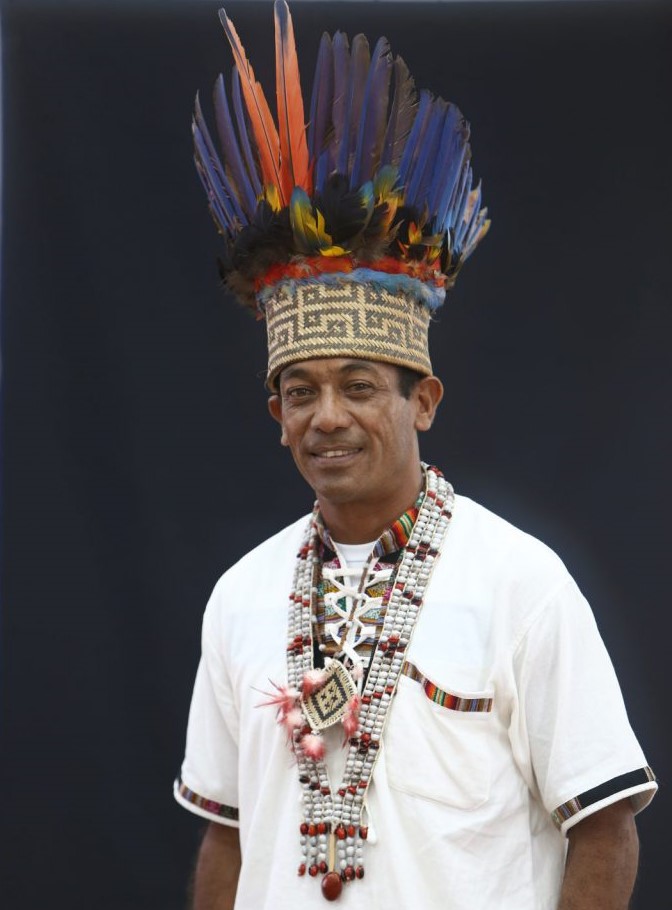 The National Toshaos Council is an indigenous body whose members are "toshaos", elected village leaders, from around the country. In an op-ed in Stabroek News, Fredericks, whose terms as Chair of the National Toshaos' Council ended this July, writes: "The Amerindian Act gives [the council] no such authority. That role is vested exclusively in Village Councils and decision-making is done by village general meetings … Guyana's Indigenous peoples were never consulted on the proposal and monitoring reports submitted to ART — indeed, these reports were never even disclosed to us - much less on the sale of carbon from our forests to an oil company so they can greenwash their continuing pollution of the atmosphere."
Nicholas Fredericks, former National Toshaos Council Chair Photo: Department of Public Information, Guyana (2019)
Commenting to Development Today on ART's statement, he says further: "In effect, the government is selling something that isn't theirs to sell. I find it very strange, especially with a new mechanism like this, that ART could say the NTC is the 'legal representative' of indigenous peoples. It is astonishing. It obviously suits their agenda, but it is a total misrepresentation of the situation in Guyana."
Christina Magerkuth at the ART-TREES Secretariat rejects Fredericks' argument: "The evidence gathered does not support the assertions made in the op-ed. For example, the National Toshaos Council unanimously approved the resolution … endorsing the Low Carbon Development Strategy (LCDS) and the benefit sharing arrangement outlined in the document, following seven months of public consultations." The Low Carbon Development Strategy 2030 is the government's broad development plan, which includes its REDD+ strategy. It aims to keep energy emissions flat while accelerating economic growth, funded by revenues from the oil sector and emission reductions from forests.
Bholanath comments to Development Today: "We were disappointed to see Mr. Fredericks' letter because he had actually been an active and constructive participant in the seven-month national consultation. He was involved in discussions around benefit sharing and had been constructive over many months." She notes that the Amerindian Peoples' Association also made positive contributions to the consultation process that contradict the public positions they subsequently adopted.
"As [ever] in democracies, there will always be varying commentary around ambitious climate action – and sometimes these will be for partisan political reasons rather than based on facts," she says.
Fredericks' objection is supported by Jed Vasconcellos, a Guyanese lawyer based in Georgetown. He notes that the Amerindian Act of 2006 grants the National Toshaos Council "investigative, advisory, strategic, and documentary functions," but it does not give the council the power to make decisions on behalf of indigenous peoples.
"None of these functions include or can be deemed to include binding the Village Councils to international agreements between the Government of Guyana and third parties, with respect to their lands. The NTC is not the legal representative of the Indigenous Peoples of Guyana with respect to [this matter]," he says to Development Today.
Vasconcellos says this "casts doubt on the legitimacy of the credit issuance and sale."
He adds that he is familiar with the provisions of the law cited by the Ministry of Natural Resources. "None of these provisions allows the National Toshaos Council to pass a resolution which compromises Village Lands, either directly or by inference," he says. "It is my view that coordinating and integrating activities' and 'preparing strategies and plans for protection, conservation and sustainable management of village lands and natural resources,' cannot be equated with entering into an agreement, compromising or endorsing international agreements which affect Village Lands that are communally held by the Indigenous Villages."
Janette Bulkan, Guyanese forestry professor at the University of British Columbia, writes in Stabroek News along a similar vein: "I submit that the government of Guyana and its partner Winrock have illegally arrogated to themselves the rights vested solely in Amerindian land title holders … [The sale of credits to] the Hess Corporation … appears to be legally incorrect and the Board and shareholders of Hess could sue for misrepresentation in this sale."
Fredericks does not rule out court action to challenge the credit scheme. He says to Development Today: "At some point we will have to take these things to the legal arena to test what is really indigenous peoples' rights."
Consultation process
Magerkuth says that during the independent validation and verification process, evidence was collected to determine whether or not each safeguard was upheld. "The evidence the auditors collected through documentation, meeting minutes, interviews, field visits and other sources led them to conclude that all safeguard provisions were met, and that a substantive, robust and extensive consultation process had been undertaken in the country. The evidence showed that Indigenous peoples from all of Guyana's regions were consulted," she says to Development Today.
Indigenous groups challenge this assertion. The Amerindian Peoples' Association says that during the verification process, they submitted information to the ART Secretariat about the government's "failure to comply" with the ART standard, but this was not taken seriously. "The responses given were vague and essentially disregarded our concerns," they write in their press release. "That the ART Secretariat and the independent verifiers of the carbon credits … can simply dismiss this evidence as not relevant or the views of one NGO, points to a failed system of social and environmental safeguards and associated auditing."
Communications Officer for the South Rupununi District Council, Immaculata Casimero from the Wapichan indigenous group, says indigenous communities in her region were not properly consulted when the strategy was adopted.
The South Rupununi District Council is mentioned specifically in a 16-page fact sheet published on December 15 by the government of Guyana in response to the criticism that has arisen following the credit issuance. It states that "thousands of [copies of the draft strategy] were distributed at the consultations and through various government agencies and NGOs such as the Amerindian Peoples Association (APA) and the South Rupununi District Development Council." Under this, there is a photo of a consultation planning session on March 11, 2022, with members of the South Rupununi District Council.
Bholanath at the Guyanese Ministry of Natural Resources says the March 11 meeting was just a planning session, but it was followed by a consultation with South Rupununi villages held one week later.
Casimero confirms that such a meeting took place. But it lasted one hour, she tells Development Today. Afterwards, the council told the government representatives that the session would "not be considered a consultation" since it was the first time representatives from the 21 communities in the district had heard about the strategy.
At the meeting (March 18), the district council recommended that consultations be held in all 21 communities. "This never happened," Casimero says. "As indigenous peoples we have a right to Free, Prior and Informed Consent and it's impossible for our people to learn and understand a document written by technical people within an hour. We do not consider that consultations … Our concern is that we don't have full recognition of all of our ancestral territory. We have been defending this land and it is ours. We are very worried about what will happen to our lands," she says.
Joshua Lichtenstein at Rainforest Foundation US has been working with indigenous groups in Guyana for the past nine years with support from NICFI and other donors. He says the process of credit approval with the government of Guyana and the ART Secretariat was not transparent.
"[The meetings that were held] were not consultations. Those were 1-2-hour information sharing sessions, at best question-and-answer sessions. We received several reports that the government shut down questions and certainly was not making space for criticism or raising doubts about the strategy," he says. "In my discussions with indigenous people in Guyana last week, there was a lot of anger and sadness. Carbon from indigenous forests that they have been protecting for centuries and millennia is now going to be used to greenwash oil operations off the coast."
Congratulations from Norway
In a press release published a few days after the credit issuance was made public, Norway's Minister of Climate and Environment Espen Barth-Eide, said: "I congratulate Guyana on being the first country to issue forest carbon credits certified by ART, paving the way for many others to come." Referring to ART's robust environment and social requirements, Barth-Eide called the issuance a "historic milestone" for tropical forest countries seeking to sell high-integrity carbon credits.
Development Today asked the Norwegian Climate Ministry to comment on the criticisms levelled by Nicholas Fredericks. The ministry provided the following statement: "TREES requirements with regard to free prior and informed consent are specifically referred to under TREES Safeguard Theme 2.3. Conformance with TREES safeguards is something that is independently validated and verified through an audit process prior to the issuance of TREES-credits."
The Norwegian ministry statement continues: "Guyana and Hess have entered into an agreement for the purchase of 37.5 million credits for at least 750 million dollars generated from 2016-2030. This is a significant deal for Guyana and indicates that there is a strong demand for their credits."
Lichtenstein at Rainforest Foundation US notes that Norway has been instrumental in moving the TREES standard forward and creating ART. "But I think the Norwegian Climate Ministry's statement was premature," he says. "It is short-sighted to be so welcoming of this without knowing all of the details."
He describes the TREES standard as a "good faith attempt" to codify the UN-sanctioned Cancun Safeguards on indigenous peoples' rights into something more operational. "It looks good on paper, but it is essentially a flawed approach because [ART relies] 100 per cent on national legal frameworks. It is all left to the discretion of governments to meet the criteria. It is very convenient for the government and international donors to say: here is this apex body that represents indigenous peoples. But that simply is not rooted in national law," Lichtenstein says. "Selling carbon credits without any specific consultations and certainly without any process around free prior informed consent is not best practice. It is bad practice. In my view, this is a very dangerous precedent."
_______________________________
Development Today is a free-standing journal covering Nordic aid, produced with no grants from donors or NGOs. Our journalism is funded by readers around the world. This story has been opened up for non-subscribers. Please consider becoming a subscriber.
Send comments on this article to adu@devtoday.no